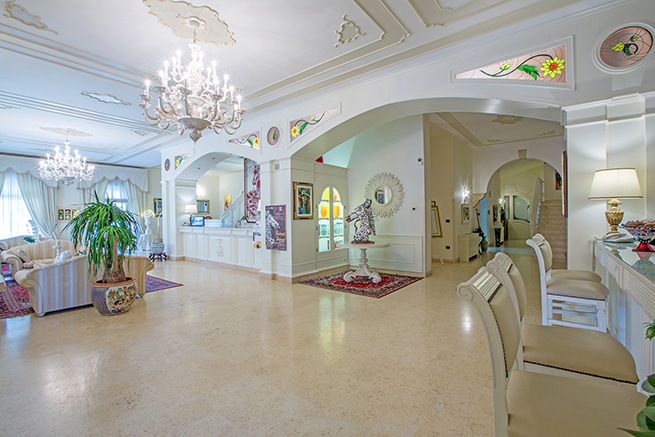 The Sangiorgio Resort offers its conference rooms of various sizes (from 10 to 400 people) for many kinds of professional needs: conferences, seminars, business meeting, press conferences etc.
The elegantly furnished rooms offer a spectacular view of the romantic gardens or the charming Piazza Santa Maria di Leuca, giving the guests an extreme feeling of calmness and serenity.
The bar area is arranged with comfortable sofas and armchairs to exude a laid back ambience with quiet conversations and relaxtion.
The old cloister, the park with the swimming pool and the Italian garden become the ideal locations for coffee breaks, cocktails, lunches and gala dinners.
The Sangiorgio Resort is open 365 days and every room has:
Air-conditioning
Reception and office area
ADSL
Wardrobe
Large parking area
ROOMS

RATE PER DAY

VAT

CAPIENZA

BIFORE
€180,00
22%
35 to 60 persone
LEONARDO
€220,00
22%
100 people in the theatre
AMBROSIA
€220,00
22%
130 people in the theatre
ALHAMBRA
€300,00
22%
140 people in the theatre
ARAZZI
€450,00
22%
400 people in the theatre
SALA ESPOSITIVA
Gratuita
Inside: 250m²
Outdoor: 450m²
Custom rates for conferences and meetings that will last more than 2 days.
TECHNICAL EQUIPMENT (REQUEST WHEN BOOKING)
| SERIVCE | PRICE | VAT |
| --- | --- | --- |
| Video Projector | €100,00 | 22% |
| Complete Audio System | €60,00 | 22% |
| Monitor Plasma 42″ | €50,00 | 22% |
| Interactive Whiteboard | €30,00 | 22% |
| Computer  | €70,00 | 22% |
| IT Support (Half-Day) | €100,00 | 22% |
| IT Support (All Day) | €150,00 | 22% |