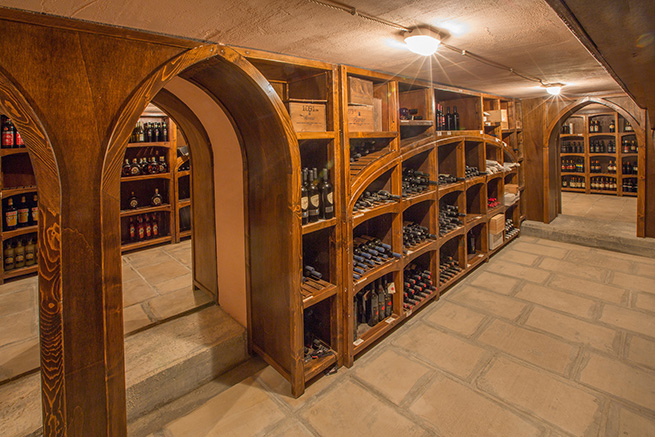 Restaurant "Il Chiostro"
The fine restaurant "Il Chiostro", with a capacity of 40, it is placed at the ground floor near the Hall Bar, and it offers an excellent choice of regional and national dishes, skilfully prepared by our chefs and included in our menus à la carte and at the Table d'Hotel.
Noteworthy is the underground wine cellar, with about 1000 different types of fine wines, it contains the best of the national and international oenology, with a particular attention to the local production. It is the ideal place where to have a wine tasting guided by skilled sommeliers.
Located deep down the earth it guards the best of national and international oenology with particular attention to the local production. More than 1000 brands on sale between white wines, red wines, dessert wines, sparkling wines and champagne. Undisputed landmark for wine lovers or not, it hosts guided tours in the cellar, wine tasting, wine training meetings, aperitifs and business lunches or dinners for few lovers of the nectar of Bacchus … inviting after-dinners with meditation wines and Cuban cigars tasting with fine distillates.
Vegan cuisin, vegetarian food, fusion cuisin and Mediterranean cuisin.
Our catering staff is well informed about free-gluten food.